With Style & GRACE
An Interview with Grace Machado McClurg, Director of Design, Style Interior Design – the LEED Certified Interior Designer who Brought Life to Metro Gateway.
"Art is an integral part of my design process and the idea for nature became an integral part of our interior story from the very onset of design."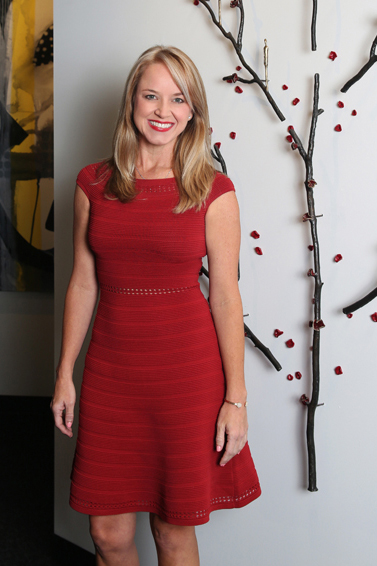 Kristin Glass, KBFA's Marketing Director, had the pleasure of speaking with Grace Machado McClurg, Director of Design at Style Interior Design, to discuss what inspired the Metro Gateway design, her tips for Gen Y and Millennials who are just entering their careers, and what Grace sees as challenges for this younger generation, etc.
KG: How would you describe your style?
GMM: I wouldn't say that I have a specific design style per se. In every effort, I dive first into research about all areas of the project – brand, locale, demographic, etc. Next I establish a concept that is authentic to all of those components. Once I've established a concept, I look to integrate it throughout all design decisions and selections. I reference back iteratively, to ensure the results are in alignment with that initial concept and authentic direction.
KG: Where did you get your creative inspiration for the artwork for the Metro Gateway apartment project?
GMM: The overarching concept for the Metro Gateway project was to create somewhat of a "Maker's" living environment throughout the property. In other words, how could this space come to life – by incorporating raw materials into our biggest design statements throughout the project. With that in mind, my inspiration for the framed wall collage came from the process of home pressing botanicals into framed art.
"Art is an integral part of my design process and the idea for nature became an integral part of our interior story from the very onset of design."
Given the volume we had to work with in the lobby, a "first impression" space, I loved the idea of creating wall-scale art pieces by layering those smaller framed pieces into one larger statement. This type of layering is also authentic to the growth of foliage found in nature and, so we went deeper with the nature concept and added a printed graphic wallcovering backdrop to this art piece, giving it more depth.
KG: Can you share any tips for interior designers that you've learned along the way?
GMM: The biggest challenge and/or learning process is to see your initial vision through to fruition. It is often easy to look at something that may be over budget and/or difficult to fabricate and just scrap it for a simpler solution. However, when you stick with it and have a solid team in place to coordinate alternate materials and/or shift details with expert fabricators, consultants, contractors, etc. the reward is high and you're able to achieve your initial vision. At the end, you learn that there are more ways than you realize, an infinite amount of ways you can achieve your initial goal.
KG: What tips do you have specifically for Gen Y and Millennial designers who are just entering their careers?
GMM: The biggest piece of advice I have for young designers is simple –"one will get out of his/her career what is put into it". This can be said for many things in life but in my experience rings especially true for design careers. The amount of effort and energy put into growing your knowledge, exposure, skillset (both on and off-the-clock) is directly correlated to your greatest opportunities and career successes.
KBFA: What is becoming more prominent in design, given the importance to Gen Y & Millennials?
GMM: With the global reach we now have with advanced technology, Gen Y and Millennials are more conscious of, ad have more interest in, living a sustainable and socially responsible lifestyle. This is clearly shown in their consumer purchasing choices as well as, their design choices and therefore must be authentically incorporated into projects for these younger generations to resonate with design.
KG: What are some of the challenges that this younger gen will face within the industry?
GMM: The biggest challenge I see facing this younger generation is their depth of knowledge (or interest) beyond conceptual/schematic design. The fundamental ideas coming out of this group are amazingly creative. However, I see them finding challenges in their ability to undertake all that is required to build out a concept such as diving deep into research on applicable products, details, etc. so they have enough information to bring their vision to life. And which, in many cases conflict with ever present budget restraints and/or commercial durability expectations. Alternatively though, with the shift towards a "shared economy" (ride share, room share, etc.), this group will find they have more opportunities to break new ground designing spaces, products and experiences. Those that have not been in high demand in previous generations will give them an even playing field to concept these designs with more seasoned designers.