Kevin Barry Fine Art + Hospitality Design Magazine + Black Dove + LG
ART BASEL MIAMI PARTY AT NAUTILUS
The Kevin Barry Fine Art team headed to Art Basel Miami Beach last month to experience all there was to see (and hear) during Art and Design Week 2017. A highlight was KBFA's V.I.P. Rooftop Party at Nautilus, a SIXTY Hotel, on Collins Avenue in South Beach. Nautilus was undoubtedly the hottest venue in town, hosting the most exclusive parties including Moschino creative director Jeremy Scott's annual soiree hosted along with Tidal (Jay-Z's music streaming service), featuring a performance by 2017's breakout star – Cardi B.
Another hot artist not to be missed was Lonely C, with his debut solo performance spinning the groovy soundtrack to our very own Art Basel party. Lonely C (AKA Charlie Levine) is the other half of funky house music DJ duo, Soul Clap. Hailing from Boston, Charles Levine and high school friend Eli Goldstein founded Soul Clap in 2001, developing their genre-bending sound based in house music, yet deeply influenced by R&B, pop and soul. We had a rare opportunity to sit down with Charlie to learn where he finds inspiration, his thoughts on the relationship between art and music, favorite Art Basel events, and was left with an exclusive Spotify playlist of Lonely C's Top Jams below.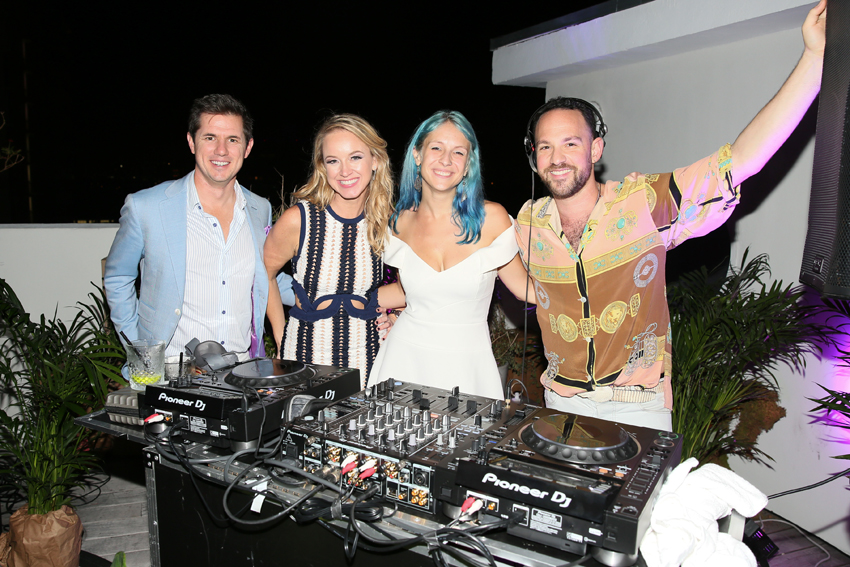 Zack Bates, CEO – Private Club Marketing, Kristin Glass, Marketing Director – KBFA, Natasha Tomchin – Artist, Lonely C – Soul Clap
KBFA: Tell us about Soul Clap and your career as a house music DJ.  How did you get started, and what plans are in store for the future?
LONELY C: As a child of the 80's music has always been coursing through my veins, but it was once I got swept up in the rave scene in the mid to late 90's that my path as a DJ became laid. It was too seductive; the energy, the music, the parties, all of it just blew my mind and opened my eyes WIDE.  I was first and foremost a fan of funk, R&B and soul music, so at the rave, of the variety of styles presented, house music was the clear connection.  Soul Clap, my DJ/production project with Eli Goldstein began in 2001 and we've been hustling together pretty much ever since. In the immediate future, I've completed a solo album under my alias Lonely C, which will be forthcoming hopefully in the Fall of 2018. Then as Soul Clap we hope to get back into the studio and begin working on an album specifically designed for live performance as we begin assembling a band in 2018/19.
KBFA: How do you find inspiration to create your music?  Where do you go to foster creativity?
LONELY C: Music and art certainly live hand in hand. The artist might listen to music while working, the musician might observe art to get inspiration.  It is a beautiful marriage the deeply influences each party. I remember working on music with Gadi from Wolf + Lamb during the days of the original Marcy Hotel in Williamsburg NY, and we would put Prince's Purple Rain on the projector on silent just to get his visual purple vibe while we worked! It definitely set the mood.
KBFA: What was your favorite part of Art Basel week?
LONELY C: We held a Crew Love event at the Electric Pickle in Wynwood that was so epic and excellent. The space has been the epicenter for the underground DJ scene for well over a decade at this point, and I can't tell you how many folks who'd really been out and about during Art Basel week who came up to me to say thank you, because the vibe was so authentic and the music was on point!
KBFA: Can you share some of your favorite artists and styles?
LONELY C: The contemporary artist who is absolutely blowing my mind this year is a guy from Montreal named Jon Rafman. I saw his 3D video art at the Freeze art fair in NYC this year and my girlfriend literally had to drag me away. I didn't want to leave, it was so bizarre. People were watching, looking very confused and uncomfortable, but I'm a total freak and I got it.  I was laughing and laughing because Rafman is a total weirdo genius!  I would so love to collaborate with him one day.
KBFA: What advice do you have for the younger generation? Many of our interior designers are Millennials and face different challenges today professionally and personally.
LONELY C: Yo! Learn your history! It's not always about looking to the past (although I do it so frequently), but without knowing your history (like Bob Marley said) you don't know where you're coming from! Then, with the knowledge of the past you can rocket into the future. Also, we really seem to lack role models these days. I don't know if it's the insecurity of social media or the general attention span of the modern condition, but people seem to be in trouble…
KBFA: Can you leave us with a playlist of some of your favorite songs?
LONELY C: Ahhh, here's a playlist of a few songs I've written and a handful that I listened to today. Enjoy the beats, my friends…
LONELY C'S TOP JAMS! (Click to Listen on Spotify)
1.  Funkadelic – Music For My Mother (Andres Wo Ahh Ay Vocal Mix)
2.  Midnight Magic – Malibu Fun
3. Chaka Khan – Fate
4. Herbie Hancock – Stars In Your Eyes
5. The Police – When The World Is Running Down, You Make The Best Of What's Still Around
6. Soul Clap – Lonely C
7.  Soul Clap & Navid Izadi ft. Kidhead – Unprotected Ex
8.  Soul Clap – Stillwater Drive
9.  Lonely C – Hypnogogic Light
10.  Soul II Soul – Keep On Movin' (feat Caron Wheeler – M Beat bonus Mix)
11.  Roni Size & Reprazent – Heroes
Follow Soul Clap and Lonely C to hear more
SoundCloud: https://soundcloud.com/soulclap
Twitter: https://twitter.com/soulclap